We're proud to offer a multitude of professional home inspection services to prospective home-buyers and commercial investors in the DC metropolitan area.
Learn What You Have in Your Prospective Real Estate Investment
At DMV Home Inspections, we bring together superior training, years of industry experience, and a true passion for home construction to provide the most advanced home inspections in the DC metropolitan area. We're a progressively minded company that is always taking strides to stay on the industry's leading edge, combining our extensive knowledge with the top tools of the trade so that our clients can learn exactly what to expect from a pending real estate investment.
Owner and lead inspector Duane Sewell has over 30 years of experience as a building engineer, and our team uses that expertise as an invaluable resource for protecting our clients—both before an investment is final and for many years moving forward as prepared and knowledgeable homeowners.
Our Responsibility,
Our Passion,
Our Commitment
Providing a top-tier home inspection is an ethical duty and our greatest passion—because nothing brings us more joy than being able to utilize our knowledge to help families invest in a home they'll love for years to come
We're committed to offering a wide range of inspection services in order to meet the needs of our clients—from full home inspections for home-buyers and sellers, to environmental testing services, we've got you covered!
We treat every home inspection with the highest degree of professionalism, and our clients with the utmost care and respect—upholding these values day in and day out so that you always know you're receiving a service you can trust
Easy-to-Read Inspection Reports
in Just 24 Hours
Our straightforward inspection reports will be available in 24 hours or less, thoroughly explaining the condition of each area of the home—from the roof all the way down to the foundation! Photographs and video of the home will be attached whenever necessary to support individual summary pages, helping you gain a better understanding of defective areas that were identified during the inspection.
We'll also provide all of our clients with access to the cutting-edge Create Request List™ (CRL)™ feature by HomeGauge.
The Create Request List™ (CRL)™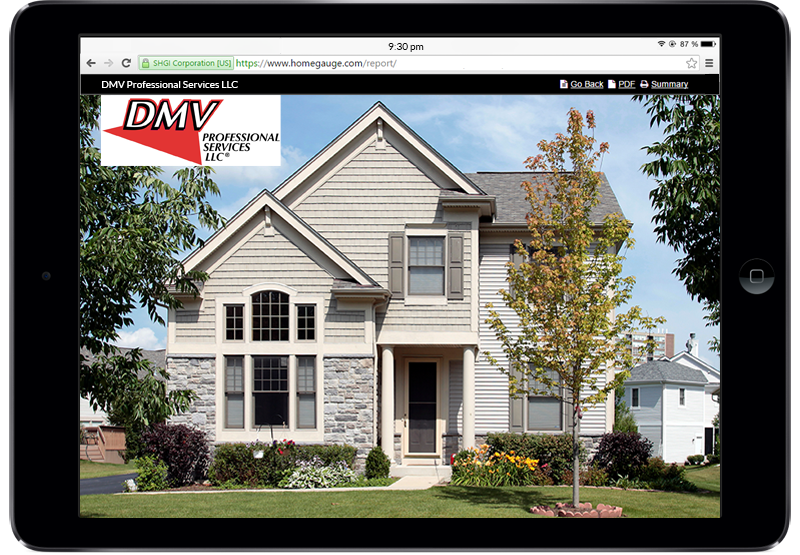 With the CRL™, you can quickly organize all of your project and repair requests in one convenient document
HERE'S HOW IT WORKS: for any defective component, choose to accept that item as is or to add it to your personalized request list by choosing repair, replacement, or reimbursement
Your real estate agent can then add your request list to the standard repair addendum so that your wishes are clearly and fully communicated during final negotiations with the seller
Washington's DC's
Home Inspection Professionals
We're proud to offer a multitude of professional home inspection services to prospective home-buyers and commercial investors in the DC metropolitan area.
At DMV Home Inspections, we're prepared to put our best foot forward for every client, revealing a home's condition in full so that you gain the knowledge you need in order to invest with confidence.
Discounts
Contact us for more information about our discounts for active-duty military, veterans, and first responders.
Schedule Inspection
Evening and Saturday appointments
are available by request.